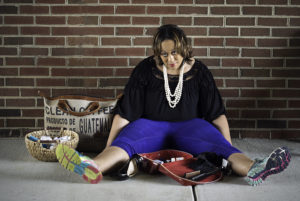 Guess what I have a problem!  Yes, I really do.  You see my problem is that I love to do things … a lot of things.  I want to accomplish a whole lot of stuff.  My problem was I was trying to do too many things at once.
If I am completely honest, a few things I did because I wanted to make extra money to help my family.  Oh man if I could just earn a couple hundred dollars it will help our family a WHOLE LOT! It seemed like my friends were being successful so why can't I?  I can do this. I really can do this.  Right?  I mean it was for a good cause right…. My family.
In my mind it was but in God's eyes it wasn't.
It's so true God knows us better than we know ourselves or what we want to admit.  God knew if this sista made a few hundred dollars then my goal would be a few thousand dollars and the thing that he had called me to do in this season which was write would go unfinished and untouched!
I think so often, just like me we get caught up in chasing things and doing things that God has not called us to do.  Oftentimes, I believe it's the reason it doesn't work out.  Our intentions may be good, but it is simply not part of God's plan for our life during this season.
I must admit letting go of some things wasn't easy, but it sure did give me peace of mind, more free time to focus on what God was calling me to do.  Oh, and that money I was pursuing… well God did what he does best.  He made some miracles happen, made ways out of no ways, and he sure did knock my socks off by still providing the increase while I sit back and enjoy writing.
My friend, sometimes we can get caught up in trying to do too many things at once or pursuing a good thing at the wrong time.  Nevertheless, I want to encourage you to pursue God. Pursue his purpose, and his plan for your life during this season.  When you do that he will work everything else out for your good.
Don't trust me, trust him!
Ya'll Keep it …………
NON STOP POP POPPIN!
#TyZiglar #FitFabulousFly #POPPIN
#MomBlogger #JesusLover #FaithWalker
#Entrepreneur #Inspiration #MotivationalSpeaker
#PrayerWorks #PurposeDriven #WalkingPurpose
#WomensEmpowerment #Blogger #LiveYourBestLife
#TheBestofYou #Miracles