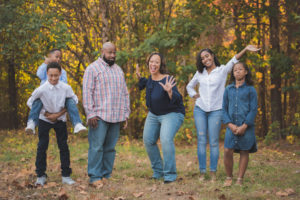 To some these may just be a great set of pictures to hang on the wall, to put on a Christmas card, and to show family and friends. To me, its just one more testimony of God's grace, his love, but most of all his miracle working power.
Every time I look at the photos I become overwhelmed with tears because of just how much I know God loves me and he cares.
Months ago I made God a promise, if you get me through it I will use it to bring you glory. I stand on this not because of what I have seen him do for others, but because of what he did for me. As I look back over my life I can say every hard place I survived, I overcame, and he brought me through it.
It was this hard place last year that I never thought I would be in and did not think I would make it through. We were separated, living in separate homes, attorneys had been retained and the battle of custody and assets had begun. With tears and defeat I wanted to quit, to walk away but God said no not today my daughter.
Through many bad days, hard times, and tears I obeyed God moved back home and began to work on what I thought was over. How could we trust, love and repair the brokenness? Honestly, I had little hope we would survive. I wanted to try because coming from a broken home I knew just what my kids were feeling.
Today when I look into his eyes, I love him more than I ever have. he makes me laugh, smile, and wipes my tears when I hurt. He provides, protects, and loves me. It's not fake, it's real. Our family, is a true story of what God can do when we are willing to obey and surrender.
I can remember mother Greene saying …. Dear this is not just for you but for all the women you will impact with your story. It's for all the women living in marriages that are ready to quit, to walk away but something is telling them to stay. It's for all the women that feel like they are the only ones walking through hard times, depression, isolation. It's for the women that feel alone, wants more, desires more but lives with guilt and shame.
I am a believer that you must go through to get to. There is nothing too hard or impossible for God. I also believe that the more we share our messes the more we cause others to believe.
So my friends when I look at these photos, it reminds me of God's faithfulness. I wanted to share part of the journey because it gives new appreciation for the blessings and miracles our family have received. (In the last 11 months there has been at least 50)
So to the devil, you are defeated. To my beautiful women, I pray now that you see even more where my Ty Talks, my videos and all come from. They come from a place of endurance, from my struggles, my battles. My sister if I can do this, so can you. God is no respecter of person.
Yes, I know some would never share this on social media. To that I say, if it changes one heart, one woman, one marriage, one family. It was worth me sharing. I refuse to sit on the sidelines when women are hurting inside and marriages are falling apart and not share.
To my mother Greene, without God sending you to witness, share, speak life, and without your endurance, and prayers I don't know if this would be my testimony. Because of you, I am excited to announce the next part of my journey that will be coming soon,,,,,, my blog, the beginning of my ministry birthed from the messes in my life that God worked for my good.
Remember my friends with God, there is nothing that is impossible if you have the faith to believe and faint not. I am TY Ziglar and I am turning every mess into a message.
#lovemyfamily
#ziglarpartyof6
#gothroughgetto
#ibelieveinmiraclesdoyou